Direct Sign Wholesale is the largest dedicated channel letter producer in North America. Their team came to us looking for a clean and simple website that both catered to their clients' needs as well as highlighted their lengthy reputation for high-quality products, customer care, and integrity in business. To accomplish this, we refreshed their branding by creating a bold yet professional aesthetic that spoke to their professionalism and brand voice. One of their main goals for their site was to be a helpful source of information and education about the industry for their clients, so we worked with them to organize and highlight their resources to better the experience for the user.
Who They Are
Meet the Client
Direct Sign Wholesale is the leader in the wholesale channel letter sign industry, known for their uncompromising quality, integrity, and excellent customer service. Their goal in business is to support their clients as best they can, acting as a guide to their clients' success.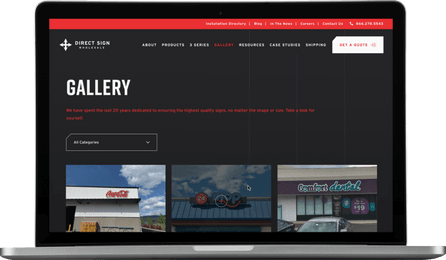 The Challenge
A disorganized and cluttered experience.
Direct Sign Wholesale's old site had a lot of great and helpful content, but the lack of organization, both structurally and visually, made it difficult for users to navigate and find what they were looking for. The challenge for this project was to find a way to simplify the content layouts and create organizational structures around the site that made it more intuitive and simple to navigate throughout the site, as well as working to update their branding and visuals to match.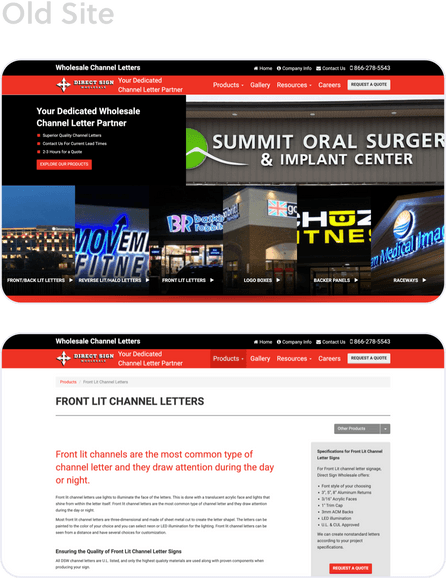 The Solution
Let's restructure and reorganize.
Our goal with this site was to simplify the user experience and update the brand style to showcase the professionalism and high quality that Direct Sign Wholesale provides for their clients. We spent time restructuring and reorganizing their written content in a way that was more intuitive for site users, as well as implementing design strategies that helped visually organize their content. Our efforts to polish the edges of their already well-known branding also helped achieve a cleaner and more friendly user experience.
The Final Product
A site that helps them help their clients.
Understanding Direct Sign Wholesale's goals helped us redesign and rebuild their website into a more useful and useable tool not only for their own business, but also for their clients. The work we put into restructuring and reorganizing their site both in content and visuals helps them better serve their clients and take part in their success.
01
Branding Refresh
One of our goals was to touch up Direct Sign's branding without losing the visual identity that is so well-known in the industry. We kept the same general color scheme and logo icon, but we updated details like fonts and played with different stylistic choices to create a modern brand.
02
Resources Rebuild
Right from the beginning, we knew that the resources that Direct Sign Wholesale provided on their site were going to be important, as the main goal for their site was to provide a space for their clients to learn and get the information they needed. We reorganized their resources into categories, and built them into the site in a digestible, organized manner.