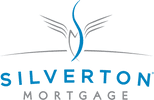 Website Design & Build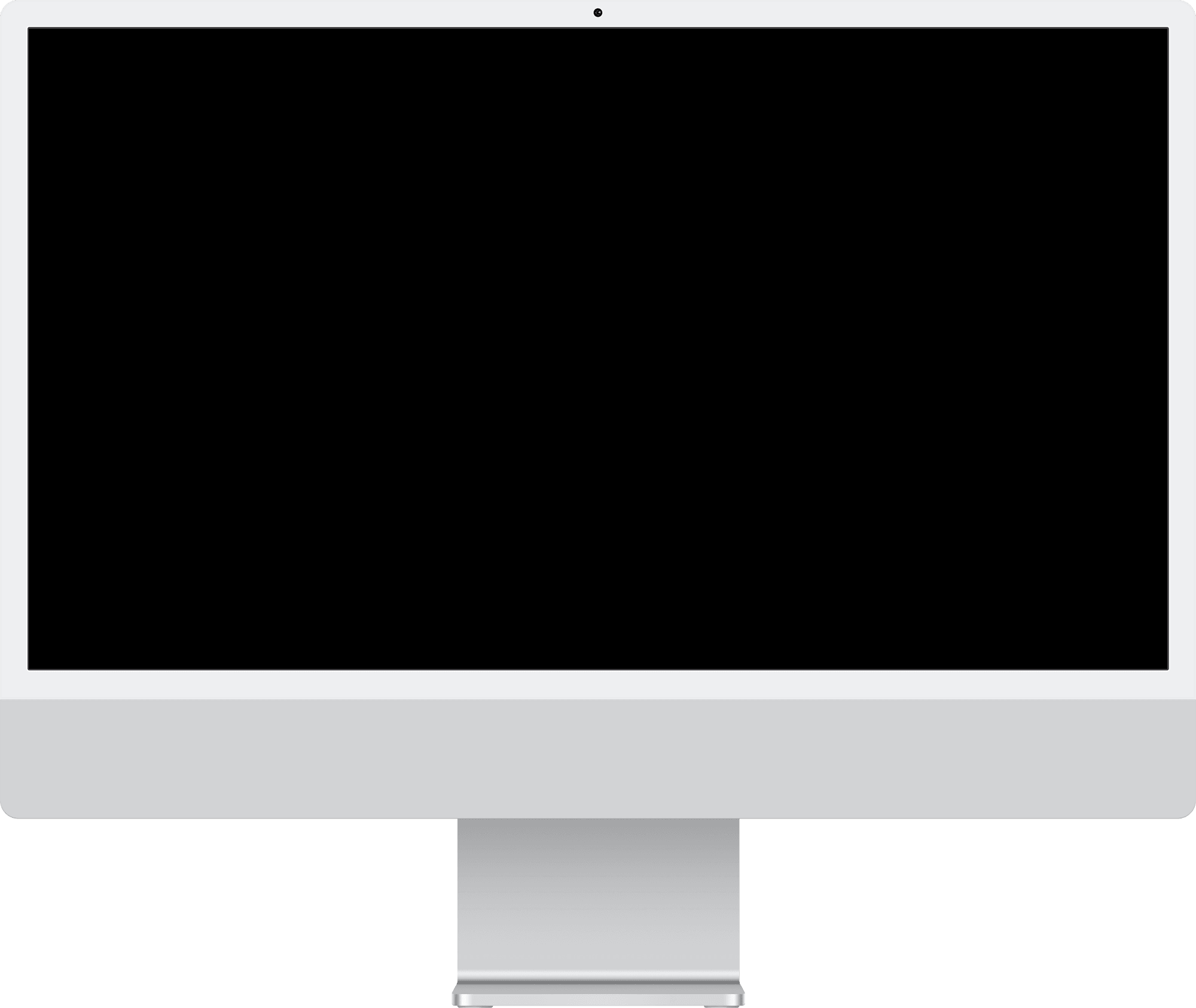 Silverton Mortgage came to us looking to freshen up their online branding & presence. We worked closely with their team to create a site with a user-friendly experience – a dynamic and streamlined design complemented with custom scroll animations, a perfect user flow, and a simple and to-the-point message. We made sure to tailor the site to their key demographic – people who are new to the company and want to quickly and easily understand who they are and why they are different.
Who They Are
Meet the client
Silverton Mortgage is one of the top residential mortgage lenders in the nation and an industry leader, built on the belief that success is a team effort. By managing the entire loan process in-house, they have created a culture of collaboration in which the success of one is the success of all.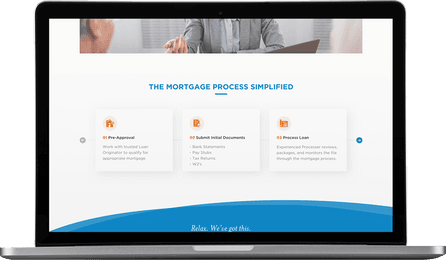 The Challenge
Outdated branding & a lack of usability.
While Silverton's old website had a lot of helpful information, it lacked ease of use. The design techniques used made the content difficult to read & digest, and the site lacked the ability for new customers to easily connect with Loan Originators in their area – an integral part of their business. Importantly, the site's outdated branding didn't showcase Silverton's professional standing as a leader in their industry – they needed a simpler, more minimalistic design that matched the simplicity of their mortgage process.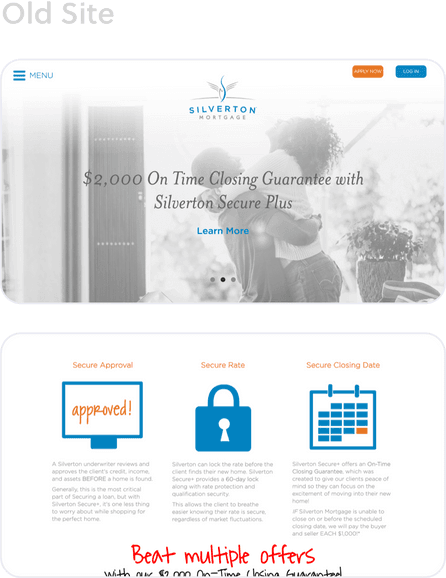 The Solution
A refreshed branding style & functional design.
We collaborated with Silverton to refresh their branding, creating a cleaner aesthetic that updated their look while still calling back to the branding that their customers & industry are familiar with. We cleaned up their old site's style, aiming for a streamlined, minimalistic design brought to life with movement. We also worked to create a seamless user experience, pulling on our web development skills to create custom features that made it most useful to their customers.
The Final Product
A website worthy of an industry leader.
With our collaborative spirit & understanding of Silverton's needs, we were able to create a dynamic website that served both their needs as well as the needs of their customers, while also updating the Silverton look to match their status of industry leader.
01
Fully custom location search feature
Silverton needed the ability for clients to easily connect with Loan Originators in their area. We created a custom solution in which users can search for LO's by name as well as ZIP Code. Search results randomize the nearest LO's, ensuring that users aren't overwhelmed with too many options as well as ensuring all LO's have a fair chance of being selected. This solution makes for a streamlined user experience, simplifying the process and making it easy to move forward in the loan process.
02
Custom icons
During the process of updating Silverton's branding we created a new style of custom icons for them that are sprinkled throughout the site. These icons helped to create visual diversity & engage the user in the content. The monotone coloring ensured they maintained the clean & authoritative new styling of the brand, adding pops of color for interest without going overboard.
03
On-scroll transitions
One of Silverton's main desires for their new website was for an energetic & dynamic aesthetic. In order to accomplish this and breathe a little extra life into the design, during the development phase we implemented custom on-scroll transitions throughout the entire site. Adding movement to the page draws the eye to important content and invites the user to interact with it, creating a more engaging user experience.
04
Responsive design
As with all of our websites, we built Silverton's new site to be responsive, meaning that the site responds dynamically to the screen size of the user's device. This ensures that whether Silverton's customers are viewing their website on either a smartphone, tablet, or desktop, the user experience is seamless in all cases.